There is quite a lot that goes into planning any event or community program. Successful event planning includes organization, community engagement, making connections, and building partnerships. With so much to consider, it can be hard to figure out how to do it successfully!
I've broken down Event Planning 101 into four essential couplets to consider when planning your event to help accomplish your goals. This guide is ideal for arts administrators, non-profit executive directors, and anyone who works at small to mid-sized nonprofits. Let this resource guide you through the do's and don'ts as you plan your next event.
1

Organize Your Outline and Prepare to Pitch Your Event

When it comes to event planning, it's best to begin by laying out a general idea of what your event is going to entail. You don't need to have details ironed out right away, as this is a process and you are bound to make many revisions. But, before community engagement and partnership building, there is consideration needed on a few key aspects. It is a good idea to begin with a rough outline that will include an anticipated event date and summary, including a description of the event's purpose, how it will benefit your community, who your target audience will be, and what your budget is.

It's also wise to draft a pitch of your event —one you can use for phone interviews or conversations or sent via email. Having a talking points script will help with public engagement and keep you organized. You can include an introduction of who you are and what you do, why you are reaching out to this entity, your event pitch, and some kind words about the partner you are reaching out to. You can customize this script based on whom you are sending it to. Try your best to keep it simple and exciting – how would you describe it to a friend?

2

Engage Community and Make Connections

One of the most important factors in event planning is making connections. This includes engaging your community, establishing partnerships, and making a lasting, positive impact on your community. Start by making a list of all organizations you would like to work with. I'll provide my own experience as an example. For the 2023 NEA Big Read, my county library's book of choice is Postcolonial Love Poem by Natalie Diaz. This collection of poetry pushes against the forces of racism, environmental destruction, addiction, and mental illness with the power of desire, love, and language. There are poems that explore natural inks and water protection. The author is Latinx, Mojave Indian, and Queer.

My library wanted to expand our reach to many different audiences to promote literacy and host a variety of events relating to this book. We reached out to Tribal reservations, water conservation groups, Behavioral and Tribal Health organizations, Latinx support groups, arts organizations, museums, colleges, genealogy groups, and many more.

Reaching out to a diverse selection will expand your reach, increase your audience, and show that you are not only interested in working with many groups of unique individuals, but that you are also interested in what your partner organizations actually do. You may end up reaching out to a group that wasn't invited to take part in events, or is open to doing something new.

In my experience with event planning as a Poet Laureate, Literacy Program Coordinator, literary event curator, and more, I have found that the worst that can happen is an organization will decline your invitation. The best thing that can happen is you will establish a new working relationship. Keep an ongoing list of who you've reached out to, when, how, and if they confirmed their partnership.

3

Reflect, Revise, and Maintain Communication

It's a good idea to return to your original event outline often to reflect and revise as needed. You may need to account for new changes. Or, you have new details to add such as specific times, dates, and locations. Working from an electronic document is best, such as Microsoft Word, Apple Pages, or Google Docs, so you can edit and save at your convenience. You could also track how you're spreading the word about your event. Keep a list of press releases and social media posting you're doing.

It's also important to maintain communication with everyone involved with your event, such as staff, volunteers, community partners, and venues. Be sure to share your outlines with any collaborators for peer review and keep changing as needed and as you iron out specific details. Template.net offers a free, downloadable Event Planning Template that is fully customizable and idea to use for events of any sort.

It's also important to consider accessibility needs in your event planning. This could include physical needs during the event (i.e. wheelchair access or auditory requirements), or technological needs while planning (visual or transcription needs of your partners). Will a hybrid event help improve accessibility and inclusivity? Communication needs to be clearly defined to avoid hiccups or miscommunication. When in doubt, always ask questions!

4

Follow Through and Care for Yourself

The final two suggestions may be self-explanatory but serve as a healthy reminder. In the times of the current global COVID pandemic, you might need to cancel your event or change from in-person to virtual at any time. It's wise to consider crafting an alternate plan in case you need to make this type of change, especially at the last minute. It's good to note that following through with your plans and hosting a successful event will not only be an accomplishment under your belt, but could lead to other opportunities for you, your organization, your audience, and your partners. You could have started the beginning of an ongoing collaboration, which will come in handy for future events, or even as a resource for networking.

It's also imperative, in these times of high stress and frequent uncertainty, to care for yourself. Event planning can be tedious and stressful when it comes to finalizing details and logistics, working with the public, and wanting everything to be perfect. You may find yourself busier than usual at certain stages in event planning, but rest assured, if you happen to burn yourself out, you won't enjoy the event as much or may not even have the energy to continue with your fabulous planning. Practice regular self-care, whatever that may look like for you. Step back often for breaks, deep breaths, and pauses from your event planning so you can keep coming back with a fresh mind. And always ask for help if you need it.
Pro tip
Consider the methods of how you're communicating with community partners! It can be tempting to just send emails, but sometimes the most effective way of creating new partnerships depends on understanding cultural and generational contexts and exploring new methods of connecting. Show up for community events, put faces to names, pick up the phone, be available for virtual meetings, or be open to other methods of communication, and you'll have a better chance of making real, lasting partnerships.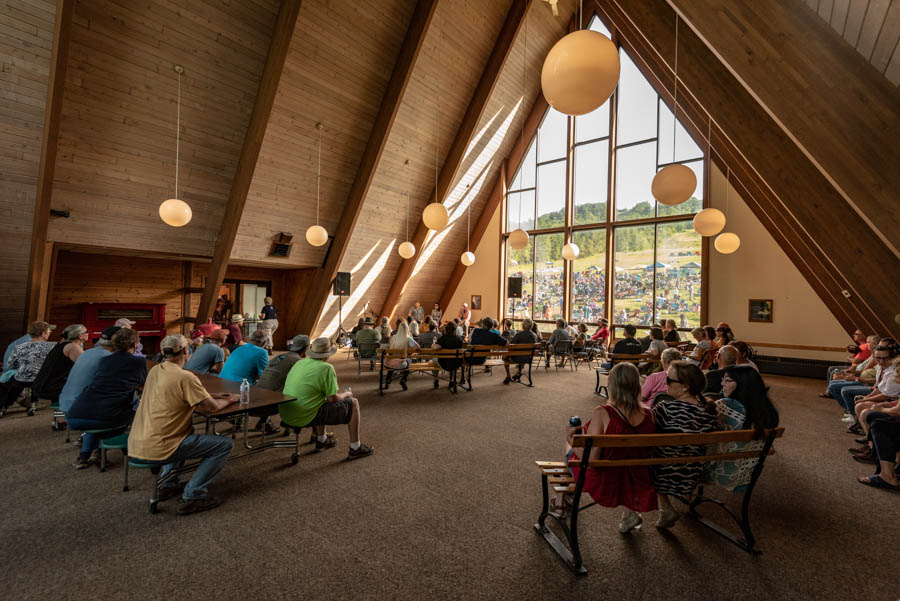 Photo Credit: David Breathwaite