Collaborate With Us
We work with writers, photographers, videographers, illustrators, and podcasters to gather and share impactful stories of arts, culture, and creativity in the Midwest.
Photo Credit: Shigeyo Henriquez
Call For Video Pitches: Midwest Makers Video Series
Pitch deadline September 24
Calling all Midwest videographers and content creators! We're commissioning nine videos to illuminate the work of Midwest Makers—creative Midwesterners who are deeply embedded in their communities.
Midwest makers are all around us. They are visual artists, chefs, community organizers, folk and traditional arts practitioners, musicians, oral historians, farmers, and next-door neighbors. They work in large and small communities, wear multiple hats, and add to the creative culture of the Midwest.
If you're all about capturing the people who make the Midwest special, we want to hear from you! Selected videographers will receive $3,000 each to create a short documentary video showcasing a Midwest Maker. Your creation will be featured on Arts Midwest's platforms as part of our Creativity News Desk, amplifying the creativity of these incredible Midwesterners.
Pitches are due September 24, 2023—read more in the call for pitches.
Commission Rate Sheet
| Deliverable | Length | Compensation* |
| --- | --- | --- |
| Short Form Feature Story | 500–750 words | $500 |
| Full Feature Story | 750–1000 words | $750 |
| Photo Story | 10 photos, each with 35-50 words of narrative captions | $750 |
| Three-Story Written Package | Up to 750 words per story | $2,000 |
| Midwest Makers Video | 3-minute video and social media excerpt | $3,000 |
| *RATES ARE SUBJECT TO CHANGE DEPENDING ON THE SCOPE OF EACH STORY. | | |
Pitch us a story
We accept story pitches any time of the year, and commission them on a rolling basis. We also post open calls for specific stories and themes every quarter. We value people reporting from their community, and we actively consider proximity to place and story subject in our commissioning process.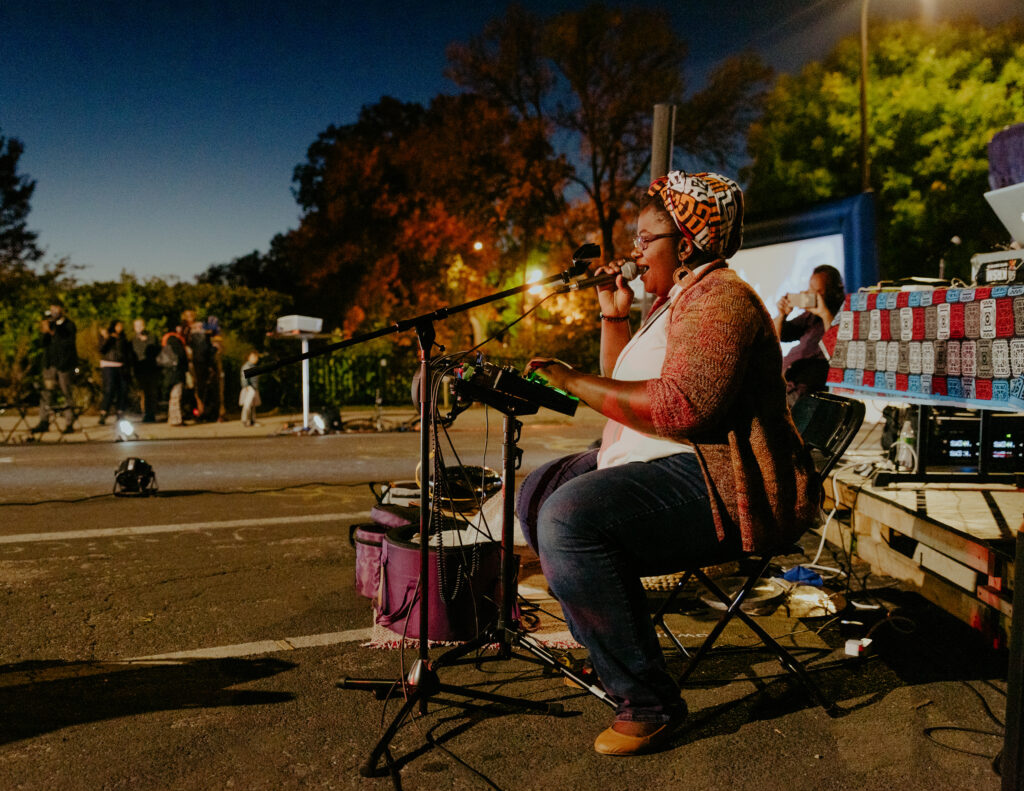 Photo Credit: Pierre Ware
Frequently Asked Questions
We hope our stories will inspire, connect, and catalyze creative communities.
We are looking for stories that:
you are excited or inspired by, or want to tell a friend about
focus on people and their passion and inspirations, rather than just organizational perspectives
are rooted in community activation, cross pollination, and creative intersections between people
expand the understanding of what it means to be a Midwesterner, and highlight diverse perspectives and identities, especially BIPOC, Native, and rural voices
seek to celebrate what has happened, rather than inform the public about events that will happen
show examples of creativity beyond what might be shared in traditional arts coverage
We work with writers, photographers, videographers, illustrators, and podcasters to produce and share impact-driven, people-focused stories across the region, with an emphasis on stories created of, by, and for people of color, Native communities, and rural communities.
Yes, we pay for all contracted work! See our compensation rates above.
We review story pitch submissions bi-weekly and commission them on a rolling basis. We follow up with creatives/story pitches that align with the goals of our storytelling initiative.
Creatives (writers, photographers, videographers, illustrator, and podcasters) interested in staying informed about this initiative can join our Midwest Creatives Pool via this form. We send our open calls and other collaboration opportunities to this group via email.
We value the insight of people reporting from their community, and are actively considering proximity to place and story subject in our commissioning process. While we are currently only accepting pitches from our region's nine states and the Native Nations making up that geography, we encourage anyone with a strong connection to the Midwest to submit their information to the pool for potential opportunities in the future.
Contact our team
Are you curious about other ways you can collaborate with us? Do you have questions about our storytelling initiative? Get in touch with our Managing Editor!
Email Angela Zonunpari